ONLINE COURSE - CHARACTERIZATION 101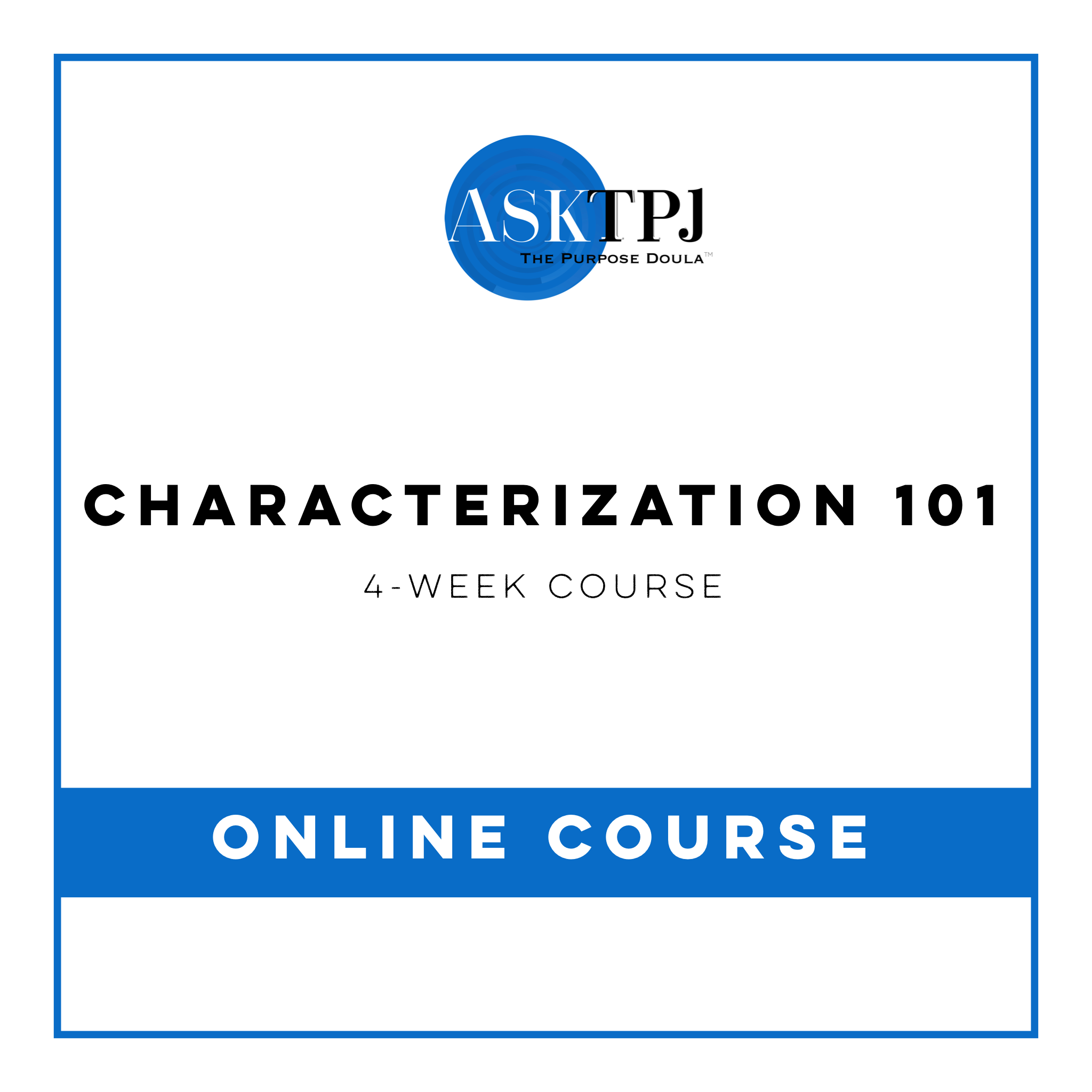 ONLINE COURSE - CHARACTERIZATION 101
Calling all writers, authors, playwrights, and wannabe's! The 5-Star Character 4-Week Intensive Course is NOW AVAILABLE!!! This course is not your typical course. As you complete each lecture, you will have a tangible piece to use in your current project. And the bonus is that you can use these templates over again for your future projects! Energy Learn the 7 character types, the authentic character formula, and how to create a superb skeletal system of your character that will not leave a single detail to chance for your book, play, or movie! Enrollment in The Writing Clinic is NOW OPEN!
In this transformative and healing 4-week intensive program you will learn to create 5-Star characters the audience just can't stop talking about. Ready. Set. DOMINATE!
Over the past 6 years I've helped to facilitate writing workshops for aspiring writers. We've given as much information possible to help turn those writers into authors! Now's the time to kick it up a notch. Each course from The Writing Clinic will produce a tangible that gets you one step closer to becoming the published author you've always desired to become! Want to write a page-turning book? Start with the Creating A 5-Star Character Course in our Characterization 101 Intensive! Classes are available to the public NOW!
Will you commit to creating a 5-Star character for your next project with us today?
In this course, Ask TPJ teaches you how to create characters your reader loves or loves to hate. You'll also get a module worksheet, checklists, and weekly homework!
This is an intensive course lasting 4-weeks including:

WEEK 1– DETAILS & BACKSTORY:
It's all about behind the scenes information to start developing some seriously well-rounded characters your reader will love to read about. The first step to creating a 5-star character is getting down to the nitty gritty creating details that will help add depth to every character so they may bring life to your next story!

WEEK 2 – OUTLINE & QUIZ:
5 stars begin with a stellar skeletal system. We'll create some rituals to help raise your BOOK WRITING IQ TM, channel your "administrative genius" for organization and ensure that you don't leave 1 important detail from your story. Also, an extensive quiz will be provided for you to take to create each character within your story.

WEEK 3 – PRESENT & MULTI-DIMENSIONAL:
This present moment is always most important to your life and where it is you want to be in the future. Well, the present circumstances of your character(s) play an intricate role in your story. No more stereotypical characters! No more flat, boring characters. This week will help your reader enjoy a less predictable character roster fro your story.

WEEK 4 – NAME & VOICE:
Are you in love with your name? Well, believe it or not your name has meaning. As a writer you have the power to create a name for your character that is fitting to your storyline. A unique character voice is a game changer when it comes to writing a best-selling novel. Let's make sure the voice of your character is synonymous with who you've created them to be...5-Star worthy!

BONUS WEEK 5 – 5 STARS!
It's time to put it all together Dominator! You've spent the last 4 weeks adding more flesh and complexity to your character. How does it feel? What's next for your story? Here you'll celebrate your success and reflect on how you've been able to use this model to create.

Ready to move forward?

Signing up for this class you also get:
1 Intensive Module Workbook PDF
4 Checklists
Weekly Homework Assignments
Unlimited Email Access for 30 Days
1 60-Minute Prerecorded Audio Session
Weekly Video Content
Content Feedback on Assignments Via Video/Email (Ask TPJ's preference)
Tangible Characters to use in your book
Character Templates you may use for a lifetime
Access to The Writing Clinic Closed Facebook Group
If you're interested in this course what's stopping you? If we get started today, you'll be up and running in four weeks and have tangible characters to write a best-selling book!
sale